Mothering Tips I Learned From Nicolas Cage
When I was a new mom, I had two baby raising manuals – the movie "Raising Arizona" and every "Calvin and Hobbes" comic I could get my hands on. I didn't rely on Dr. Spock, those "Your Baby's First 12 Months" books, Dr. Phil, or parenting magazines. Needless to say, I raised a very unusual kid. My son is now college aged and he just moved in with us so life has been interesting to say the least.
I realized that Nicolas Cage has played a big part in influencing my views on raising children, starting with his starring role in "Raising Arizona". Here are lessons I've learned from Nicolas Cage regarding child-rearing: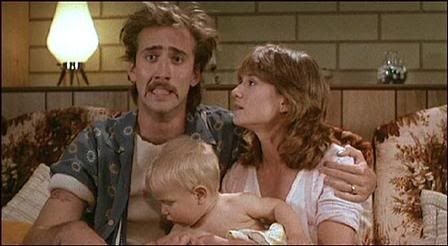 Raising Arizona
1. Don't leave the car seat on top of the car and then drive away.
2. Listen to your child's mother when she tells you what your child needs.
3. Never take on more children than you can handle.
Kick Ass
1. If you child is precocious, encourage out-of-the-box interests and behavior.
2. Always dress cool.
3. Don't talk down to your child. Treat your child like a person and not a toy.
4. Teach your child to be a skeptic and to question authority.
5. Teach your child about justice.
National Treasure
This movie is more about Nick Cage's relationship with his dad as played by Jon Voight.
1. Always support your child's wildest dreams, no matter how out-there they may be.
2. There's always another clue but it's worth following.
3. When you can, teach, such as showing your child the proper way to read invisible ink. Remember to use heat.
4. Encourage your child to think for him or herself.
So there you have it. I do have unusual parenting ideas and I think I did a fine job with my son. I am far from a helicopter parent, too. That's just not in my nature. So Nick Cage in all his quirkiness influenced my parenting style. And my son turned out fine.