"I've Never Masturbated Before"
My name is Monroe, I'm nineteen years young and I've never masturbated before. I've never touched myself  because I didn't like the idea of it being my hands. I'd much rather have a guy pleasing me. However, no man thus far has successfully satis?ed me, and to be honest I've never cared much about orgasming. That is until my roommate made it known to me that she has orgasmed… multiple times.
Monroe
Although no man has made her "O" either, she has been able to self-induce an orgasm. That's when I became intrigued. Statistics show that most women aren't able to experience an orgasm until their late twenties to mid-thirties. However, my best friend was able to do it earlier on and she's eight months younger than me. Immediately, I looked to Dr. Emily Morse for advice. She told me that when she was my age she hadn't experienced an orgasm either.
She asked me if I had never masturbated before, and assured me that I could have an orgasm through masturbation. It might not happen tonight, or tomorrow, but if I dedicated myself to finding out how my body works, I would be able to have an orgasm.
Long story short, we went off to Dr. Emily's garage and I went home with more sex toys and tricks that I never knew existed.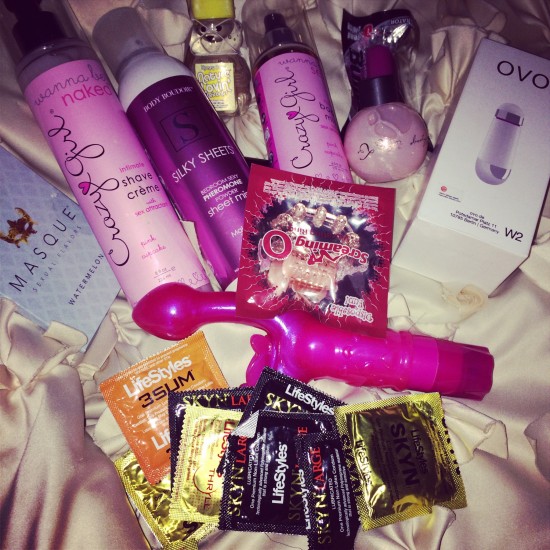 I packed my backpack with condoms, Crazy Girl shave cream and flirty body spray, Masque Oral Sex strips, lube, and a bullet. I now have an arsenal of sex toys.
I paced back and forth in the solitude of my room while my new pleasure items whispered sweet nothings in my ear, luring me in with their seductive colors and thought-provoking names. Although the pocket rockets should've been the ?rst thing to try (having not done this before) my hands had a mind of their own and leaped towards the biggest guy in the crowd, the Butter?y Kiss.
The next thing I knew, I was lying in my bed, sheets pulled back and my favorite purple towel under my naked bum to cover my satin sheets. I raised the vibrator, while it was still turned off, awkwardly towards my clitoris as I thought about how I was about to violate myself for the first time and a certain boy (the best fuck I've ever had who shall remain nameless). Suddenly, my hands weren't my hands anymore, they belonged to "him" and "he" was bringing me pleasure.
Finally wet on my own, I clicked through all the levels of that amazing vibrator until I was tired and happy. I didn't orgasm – this was only night number one of my journey to orgasm, but what I can tell you is that shame went out the of window and across the street. I'm not giving up trying to experience an orgasm this way.
Christine Webber, psychotherapist and life coach and Dr. David Delvin, GP and Family Planning Specialist did a study that stated, "47 percent [of women] climaxed for the first time through masturbation." I'm still open to a gentleman trying. Besides, it'll be interesting to see who gets there first.
Here are three tips I got from Dr. Emily Morse that I would recommend for all first timers like myself:
1. Relaxation before Penetration
If you are restless and tense then it's not going to be a pleasurable entrance. Simple as that.
2. Lather with Lube
If you don't own a bottle of lube yet ladies, then I suggest you go get one. Even I have fallen victim to the men's convenient "spit" technique, but lube can be more fun and hygienic. Plus I hate hearing that hawking noise when I'm trying to get in the mood. It's amazing when you can't get wet on your own, especially during masturbation.
3. Be Patient
More than likely, you will not orgasm the first time you masturbate. Like all great things, it requires a little time. In the meanwhile, you can learn more about your body and your do's and don't's in bed.